Economic Mobility: Is the American Dream in Crisis?
Editor's note: CHN Intern Sarah Morrison is a rising senior at the University of Maryland. She is studying Economics and Non-Profit Leadership.
"The American Dream."
Americans hold this phrase close to heart. People come from other areas of the world hoping to experience it firsthand. Yet at the same time, an increasing number of people seem to share in the belief that it is an unattainable myth.
The phrase was likely coined by wealthy New York financier and author James Truslow Adams during the Great Depression. Whether the phrase caught on due to American economic desperation, or its recalling of prior U.S. prosperity, it spread like wildfire. In his words, "it means that dream of a land in which life should be better and richer and fuller for everyone, with opportunity for each according to ability or achievement."
In other words: economic mobility. Sounds great!
Yet, how did the phrase used by nearly every recent U.S. President to inspire hope begin to face so much condemnation?
Maybe it's because that reality doesn't ring as true as it used to. According to the economist Raj Chetty, between 1970 and 2017, the number of individuals who earned a higher salary than their parents dropped from 92 percent to about 50 percent. Or perhaps it is because we now live in a climate in which Americans are acutely aware of how limited their economic mobility is due to uncontrollable factors such as race, gender, and financial status.
This was largely the subject of conversation at a recent U.S. Senate Committee on Banking, Housing, and Urban Affairs hearing entitled, "Economic Mobility: Is the American Dream in Crisis?" on July 17. With a number of economists and scholars testifying, it became abundantly clear that many experts are concerned about our ability to pursue and attain the American Dream.
Democrats and Republicans alike voiced a growing concern for the financial well-being of constituents. Sen. Tom Cotton (R-AR) kicked the hearing off by sharing his discontent with the common perception of economic growth being entirely based on numbers such as GDP and stock market trends, at a time when he still sees members of his community struggling to make ends meet despite such profitability on paper.
Sharing that concern, Thea Lee, President of the Economic Policy Institute (and Board member of the Coalition on Human Needs), delivered sweeping testimony that demystified the complexities of disparities in economic mobility.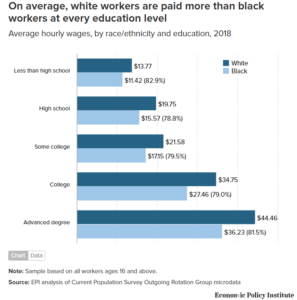 Lee communicated how factors such as race, educational attainment, and union engagement play key roles in determining an individual's potential mobility. It is easy to conclude that higher educational attainment leads to higher mobility. Yet, at all levels of education, whites earn more than blacks, according to EPI research. Additionally, the steady decrease in union membership correlates with lower wages, benefits, and overall worker satisfaction. Unions allow workers to safely and effectively promote their own well-being; without effective unions, individuals have less room to advocate for their economic mobility.
She also endorsed a number of proposals, including increasing the minimum wage to $15, passing the Protecting the Right to Organize (PRO) Act, and other initiatives which would lead to increased equity among Americans.
Congress needs to begin to take leaps, not steps. A number of astonishingly intentional federal tax and policy choices made over decades target low-income and vulnerable communities, while favoring those who are already thriving. Prosperity and security are currently out of reach for countless Americans, something which should never have to be said.
But this does not need to be a permanent state. With committed advocacy and proper action by Congress, equitable economic mobility — in other words, the American Dream — can return to its former glory.
Subscribe: